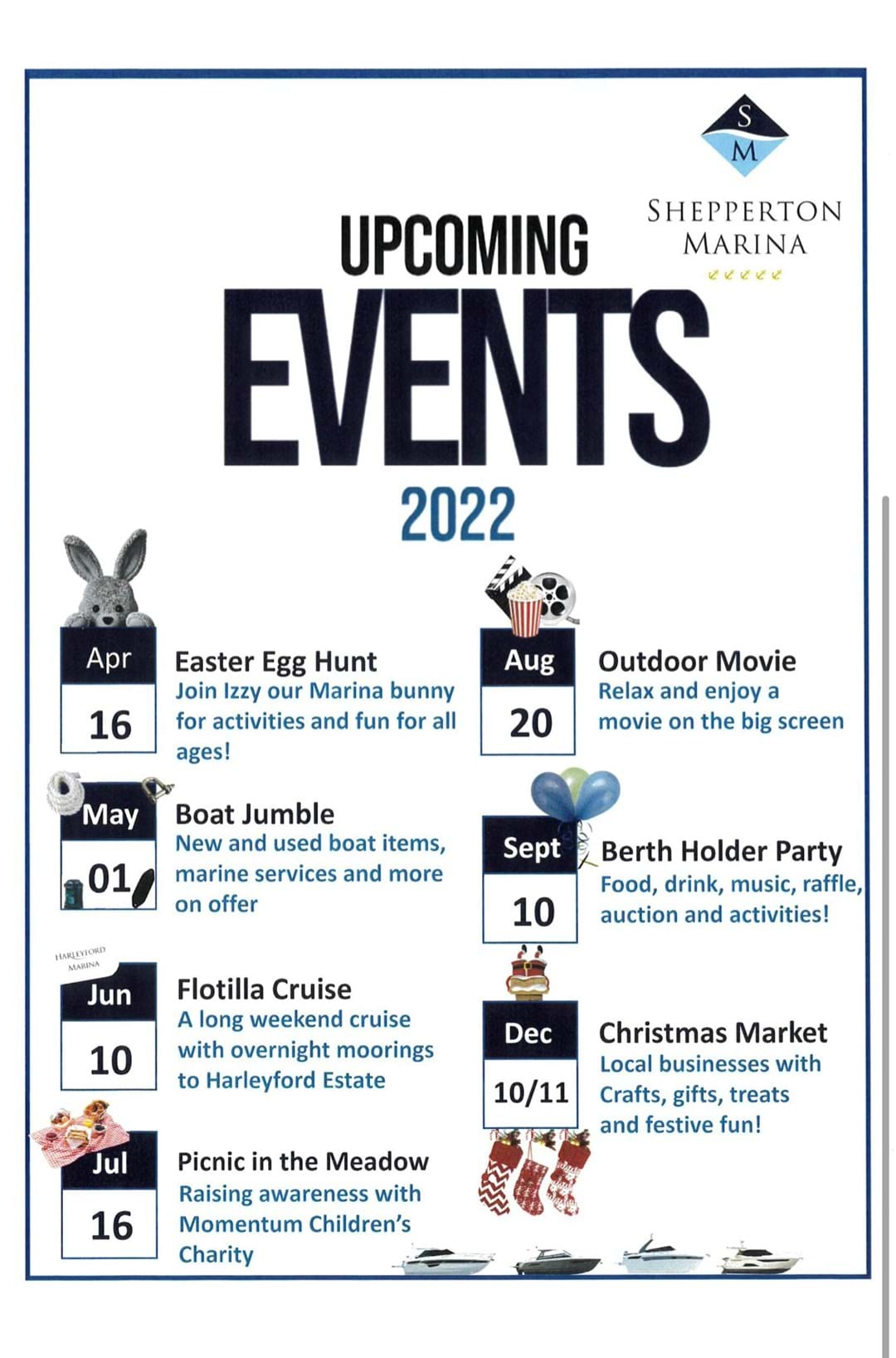 General Update – Shepperton Marina
The birds are singing, and the clocks have now changed meaning Spring is officially here!  As we welcome the warmer, longer days, we look forward to welcoming all our moorers back for the 2022 boating season.
Below are a couple of updates:
Marina of the Year Awards 2022
As you may know, Shepperton Marina came in second place in the Inland Marina of the Year Awards 2021. This year, we would love to be crowned the winner!
Voting has now opened and we would very much appreciate your support by voting for us and nominating a member of the team who you feel have been exceptionally helpful. 
You can vote by clicking on the following link.
https://www.tyha.co.uk/marina-awards#form
Thank you in advance for your vote(s)!
Save The Date! - Upcoming Events
Easter Egg Hunt – 16th

 

April

£5 Entry for those taking part in the activities. Free for those accompanying/watching the fun!
The fun and games begin at 12 noon
Registration is now open – visit

 

www.sheppertonmarina.co.uk
And…. help build our Quayside Bunting (free)

Open to all ages!
Visit the Marina Office to collect your plain bunting
Decorate your bunting and return it for laminating and placement

Boat Jumble – 1st May

Visitors – Free
Stall holders

2 metre length x 3 metre depth pitch (£5)
4 metre length x 3 metre depth pitch (£10)
Registration is open now – visit

 

www.sheppertonmarina.co.uk

Flotilla Cruise to Harleyford – 10th June - Please register your interest as soon as possible!

Leaving Friday 10th

 

June late morning

Overnight mooring and takeaway (Fish and Chips) on the Friday included

Arrival Harleyford Saturday 11th

 

June

Overnight mooring and evening meal included

Return trip as individual boats, at your leisure
Cost: TBC
Register your interest by responding to this email, visiting the Marina Office or

 

clicking here

Picnic in the Meadow – 16th July

Free
In association with Momentum -

 

https://www.momentumcharity.org/
Bring a picnic, mingle with fellow moorers and relax for the afternoon
Music and some activities

Movie on the Meadow – 20th August

Big screen in the meadow
Possibly some treats!
We are still debating which 'classic film' it will be, so all ideas welcome – respond to this email

Berth Holder Party – 10th September

12 noon – 4:30pm (TBC)
Food truck, drinks bar and sweet treats
Live music, auction, raffle and children's activities

Christmas Market – 10th

 

/11th

 

December

Current discussions in progress for a two-day event
Local businesses with Christmas Stalls
Gifts, crafts, festive food and treats
Boat Showrooms – New Team Member
Boat Showrooms remains busy even during the recent cold, wet and windy last few weeks and months, but with Spring approaching, the Marina is coming alive by the day, with current berth holders and potential clients looking at our boats for sale.
Vaughan Browne has a new understudy within the team, as Mark Pearce has joined to help with our brokerage sales. Mark has been at Harleyford Marina for many years as a broker and more recently Marina manager - many of you may have seen him on trips up to Harleyford to utilise your 7 nights courtesy mooring, which as many will know is located between Marlow and Henley.
If you are considering selling your boat do, please call us on 01932 260261 or email broker@boatshowrooms.com as we are always looking for boats to add to our listings. We are also happy to offer free valuations on your boat if you are thinking of upgrading or selling your boat.
We look forward to seeing you again soon and let's hope we have a great season boating on the Thames again.
Kind regards,

Lisa Harris
Marina Manager