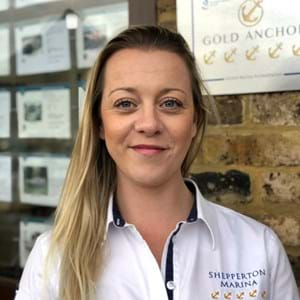 Lisa Harris AMM
Marina Manager
"I started my time at Shepperton Marina as the Office Administrator and over the last five years have worked up to my current position. I have worked in marina's for the past 17 years and am extremely passionate about the industry. I believe Shepperton Marina - being a family run business - offers the right balance of professionalism with a strong feel of a friendly / family environment. Growing up by the river and being constantly around boats from a young age, I have an extensive knowledge of the local area and enjoy discussing with our customers their local boat trips and experiences. When I am not working, I like to spend time with my family, and enjoy cruising up and down the Thames on our boat".
Lisa is trained in Health and Safety, First aid, Fire Safety and River Safety and is a qualified Advanced Marina Manager.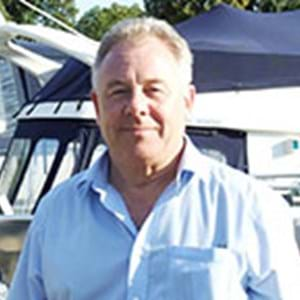 Vaughan Browne
Boat Sales
"Shepperton Marina is prized for its tranquil location, quality facilities and close proximity to historical landmarks like Hampton Court, the hustle and bustle of Richmond and Kingston and is only three locks away from the tidal Thames. I started boating on the Thames in the late '60's and have been in the marine business ever since. As well as the Thames I have experience of waters around the UK and the Mediterranean. I look forward to meeting and advising both new purchasers and owners alike. Our mission at Shepperton Marina is to ensure that we have a wide selection of well presented boats available for sale that will satisfy even the most discerning clients. We look forward to welcoming you to Shepperton in the near future".
Vaughan is trained in River Safety.
"I joined the team at Shepperton Marina in February 2019 as a Marina Operative. Previous to this role I spent 40 years working at London's Heathrow Airport for Pan Am and United Airlines as a Maintenance Electrician and Air Freight Representative. I have owned a boat since the age of 21 and spent many summers sailing the seas both in the UK and abroad with my friends and family. My key responsibilities in this role involve carrying out daily checks on all boats, pontoons and facilities to ensure the marina is a safe, secure and presentable environment. I am thoroughly enjoying working at the marina and look forward to getting to know and sharing stories with customers that share my hobby."
Paul is trained in First Aid.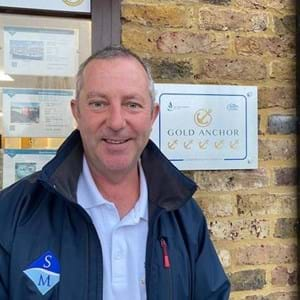 I started work as weekend Dockmaster in July 2019. You will see me monitoring pontoons and boats on daily rounds, serving fuel, supporting moorers and visitors or trying to manage our guano.  In contrast, when not in the Marina,  I support IT Infrastructure Resilience and Recovery.  With over 10 years of boating experience I am currently on my second motor boat and forever learning. It's always great to share experiences with our visitors and moorers alike.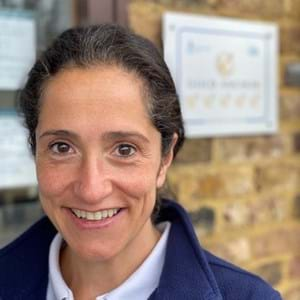 Sarah McMillen
Customer Services Advisor
I joined the Shepperton Marina team as a Customer Services Advisor in September 2019.  As 'front of house' I am here to meet and greet you when you visit the Marina office, whether that is for support or purely to say 'hello'.  Outside of Marina life, I have many years' experience in the Incident Management and Business Continuity Industry. My love of boats started 15 years ago in the Solent, then progressed to the Thames where I have gained good knowledge of the river, facilities and attractions.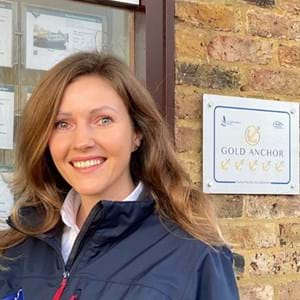 Lina Jarosaite
Customer Services Advisor
I joined the Shepperton Marina team in January 2022 as a Customer Service Advisor.  I am here to welcome and support you when you visit the Marina office.  I have many years of experience, working in companies supporting the most vulnerable parts of society, heading the regional Food Bank Charity and the Support Foundation in Lithuania. I also have seven years of experience in network marketing within the health and beauty industry. This includes mentoring peers and team members about wellness, good health, and leadership. Outside work I enjoy outdoor activities such as running, hiking and camping, so very much look forward to embracing Marina life and hearing all about our moorers experiences.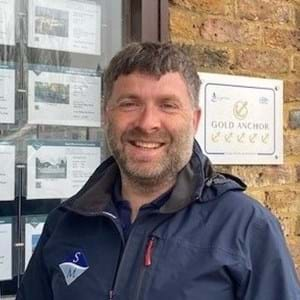 Steve Gibbs
Head Groundsman
Steve joined the Shepperton Marina team in November 2019 having previously spent over 16 years in retail.  His love of the outdoors in particular horticulture led him to his new position.  He is responsible for maintaining the grounds, developing green areas and ensuring they are clean and safe for moorers to enjoy. Steve loves to talk about how the team manage our grounds and our future plans whilst hearing moorers experiences both on the River and whilst visiting the Marina.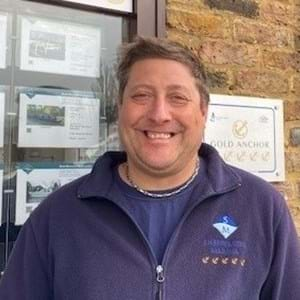 Darryl Leonard
Marina Services Operator
"I have worked for Shepperton Marina since April 2008. Before that I worked on the river at Gibbs Marine and at Walton Marina. My role within Shepperton Marina is Marina Services; I deal with the day-to-day running of the marina including dealing with the craning department and the hard standing. I have worked on or around the River Thames for the past 25 years; I love everything about the river, from being on it or sometimes in it"!
Darryl is trained in First aid, Fire Safety and River Safety.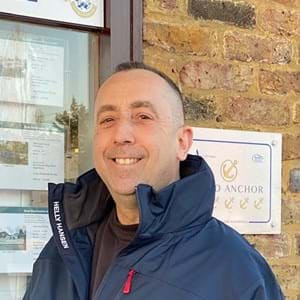 Aaron Beard
Marina Services Operator
Aaron joined the Shepperton Marina Team on 4th January 2022. We'll be posting more about Aaron soon!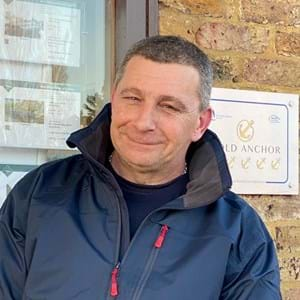 Warren Spring
Marina Care Taker
Warren joined the Shepperton Marina Team on 4th January 2022. We'll be posting more about Warren soon!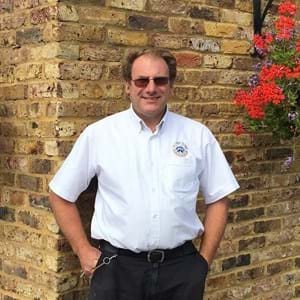 Mike Hone
Marina Maintenance
"I took early retirement from the Met Police in 2013 and joined the Shepperton Marina team. I have been involved with boats since I was 18 working on the police boats. My wife and I bought our first boat over 25 years ago and have had one ever since, it's an addiction. My other passion is motorcycles, and touring around the world on motorcycles when I can. I enjoy working at Shepperton Marina and meeting the like minded boating customers, providing the service to them I would expect myself".
Mike is trained in River Safety.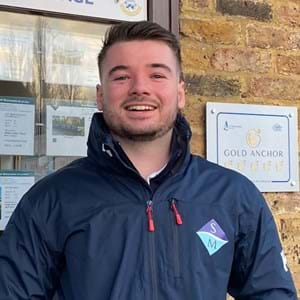 Max Bushell
Marina Operative
"I started working at the marina in May 2017 as the weekend Marina Assistant before progressing to full time Marina Operative one year later. My Role is to assist and direct customers mooring their boats, customer queries and general day to day running. I also carry out daily checks around the marina to ensure that all the boats are safe and secure and that the facilities are well stocked. I have enjoyed playing on the Thames from a young age either kayaking or boating".
Max is trained in First aid, Fire Safety and River Safety.