A Unique Mooring Location

'The Island', Basin D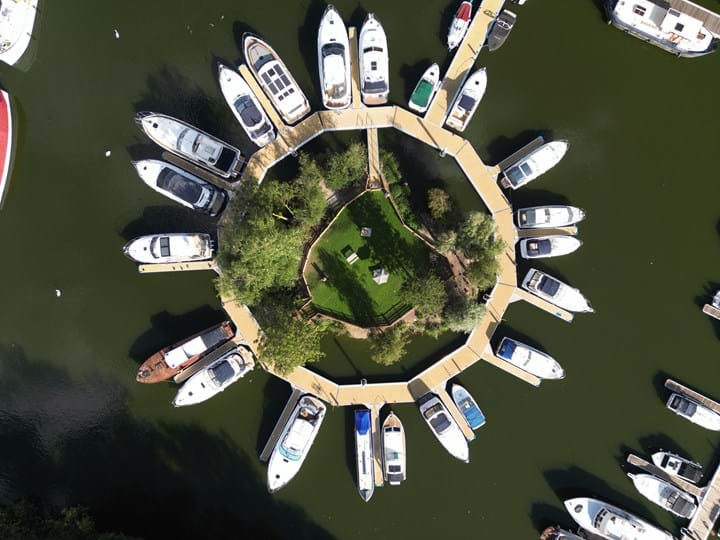 'The Island'
With the ever increasing number of boats on the river and the requirement for more moorings, Shepperton Marina saw an opportunity to create a unique design for a pontoon that would not only look fantastic, but would also sustain current wildlife and hopefully encourage more as well as providing customers with a relaxing and unique setting for their boat.
We were very excited to open The Island in August 2021. It is a great addition to Shepperton Marina's Basin D and is accessible along the current walkway.  
We've invested in 26 brand new berths, that accommodate vessels from 6 – 14 metres, fully serviced, providing electricity, water and WIFI.
The large circular pontoon area is beautifully grassed set with flowers and picnic tables to relax and unwind in a safe, secure environment. 
With Shepperton Marina's great facilities on-site and with almost all of the berths occupied, The Island is a must to explore.
Further information and current availability can be obtained by contacting the Marina Office.
Shepperton Marina

West London's Leading Thames Marina
Situated in a delightful backwater between Shepperton and Sunbury locks, the Marina enjoys a peaceful air of rural tranquillity. Yet London is only some 30 minutes away by road and direct access to the river offers the boat owner a variety of cruising choices.
Moorings for boats of all sizes
At Shepperton Marina we have a wide selection of delightful moorings ideal for boats ranging from small day cruisers up to larger motor boats and wide beams/Barges up to 22m. All of our moorings (except one pontoon for day boats) are equipped with electrical hook-ups and water supply. All are within easy reach of showers, toilets and other facilities.
Our years at Shepperton have been very special and we appreciate the commitment and level of service that you all have given us.
Leila
Thank you for your fabulous service over the past year all the staff have been so helpful and courteous at all times. 5 star service all the way.
Chica
I take this opportunity to commend you and your team for the excellent service we enjoy. It's never been better in the 20+ years that I have been with you.
Artisan
Artisan
Thank you so much for your prompt and absolutely wonderful service. Of all the marina's we have spoken with, you rate far higher above everyone else. Amazingly friendly and enthusiastic service, thank you.
Panacea
Panacea
I appreciate the effort that you go to to keep me informed of life on the marina.

The idea of you sending photos of our boats is singularly the most incredible piece of customer service that I have ever come across. Well done. I hope that we can all come back soon. Very best regards
September Song
Heather and I thought we would drop you a line to thank you and the entire team for your help, support and friendship over the 4 years we owned Partina, We are sad to have to let her go but in the current climate we had to listen to our heads and not our hearts. We will not be strangers to the marina and we fully intend to purchase another boat and moor with you once everything has returned to some kind of normality. We love the family atmosphere at the marina and consider all of the staff as friends. Dave and Heather
Partina