Shepperton Marina

West London's Leading Thames Marina
Situated in a delightful backwater between Shepperton and Sunbury locks, the Marina enjoys a peaceful air of rural tranquillity. Yet London is only some 30 minutes away by road and direct access to the river offers the boat owner a variety of cruising choices.
Moorings for boats of all sizes
At Shepperton Marina we have dozens of delightful moorings ideal for conventional small-to-medium sized motor boats and river craft, almost all with electrical hook-ups and water supply. All within easy reach of showers, toilets and other facilities.
Tranquil Thames Moorings

Brand New Basin D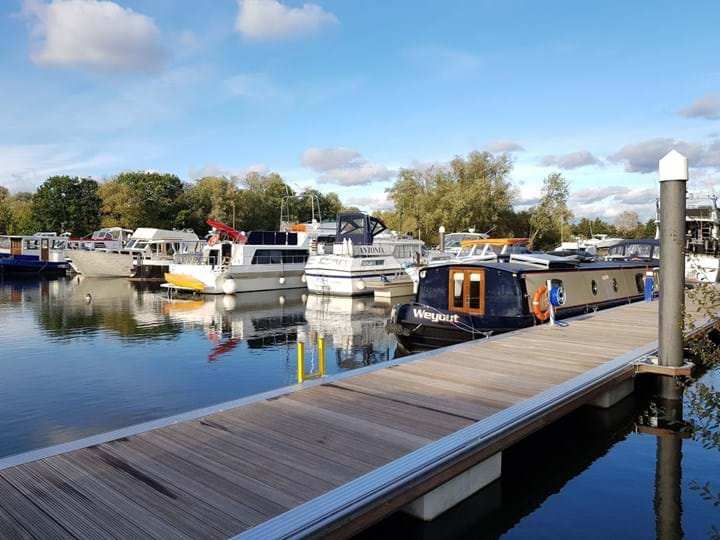 Basin D - Shepperton Marina's latest addition
Completely surrounded by natural beauty and overlooking the swan sanctuary, Basin D is a very peaceful and beautiful place to moor your boat.
This basin was built to meet the demands for moorings on the lower Thames, designed to offer moorings for boats of all shapes and sizes from 70ft Dutch barges to 45ft sports cruisers down to a 20ft day boat. Basin D will have a mooring for every type of boater.
Many thanks for the email updates and for your regular surveillance of our boat during the recent flooding. I live 60 miles away and was not able to monitor my boat myself, so I very much appreciate your efforts on our behalf. Many thanks.
Mr Pettit
Zippy Zoo
Dear All at Shepperton Marina, May I take this opportunity to say a very big THANK YOU for all your hard work at keeping all boats safe during the recent Thames flooding. I am sure all the other boat owners would agree that it gave us great reassurance & peace of mind, especially for those who couldn't get to the Marina. So from the' African Queen' thank you so much for your care and attention.
Mrs Wright
African Queen
How lucky we are to have found Shepperton Marina to moor our boat. It's always such a joy to be here whatever the weather or indeed the time of year, whether it's contemplating cruising on the river or just relaxing aboard. Quite apart from our delightful mooring location, we really appreciate the care and hard work undertaken by ALL the marina staff ensuring the Marina runs so efficiently, allowing us to thoroughly enjoy our leisure time afloat.
Susie and Mike Beales
I bought my first boat 18 months ago through Boat Showrooms of London and was given considerable help & advice throughout the process. Because of this help I decided to take a mooring at the marina. Without exception, everyone involved at the marina has been friendly, welcoming and genuinely helpful. I like it that Shepperton is a marina for people who actually use their boats.
Mr Martin Bradbury