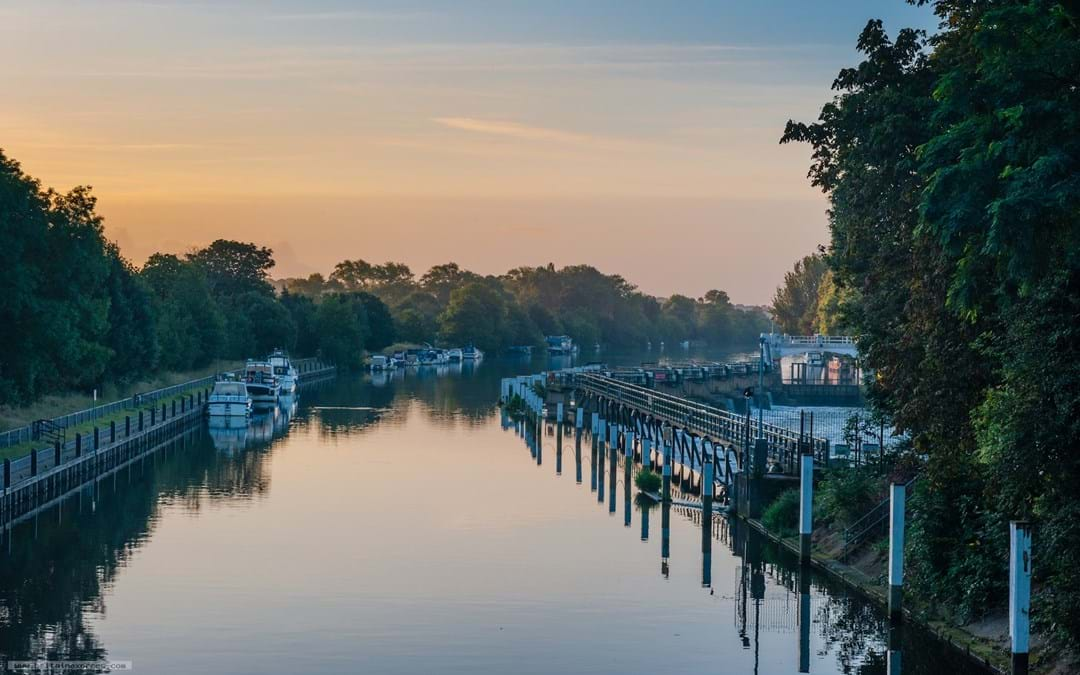 River Thames Lock Closures Notice
River Thames Investment Programme Map
Planned lock closures: 
The Environment Agency carries out a programme of works on the River Thames every year between October and Easter. This often results in the closure of a number of locks for relatively long periods.
So that river users can plan their winter cruising and boat movements well in advance, the Environment Agency publishes the first issue of their programme of works in August each year.
This programme of work is subject to change, due to weather and other circumstances. Revised issues of the programme of works are published throughout the winter, so customers can keep up to date. To receive this information, sign up to the email update service by emailing riverthames@environment-agency.gov.uk.
Listed below are the locks that will be closed during the 2018 to 2019 investment programme. The locks will be closed from the first date listed and re-open on the day after the final date:
| | | |
| --- | --- | --- |
| When | Where | What's happening |
| 29 October 2018 to 31 January 2019 | Molesey Lock | Replacing the timber sheeting on the face of each lock gate. |
| 29 October 2018 to 15 March 2019 | Teddington Lock (Launch) | Refurbishing the lock chamber concrete walls and replacing the lock side rubbing timbers and bollards. River users will still be able to navigate through the Barge Lock. |
| 1 December 2018 to 1 March 2019 | Rushey Lock | Replacing the timber sheeting on the face of each lock gate. |
| 7 January 2019 to 10 February 2019 | Cookham Lock | Refurbishing the concrete sill of the tail lock gates. |
| 7 January 2019 to 15 March 2019 | Caversham Lock | Refurbishing the lock chamber concrete walls and timber edging. Replacing the wet boat shed roller shutter doors upstream of the lock. |
River closures: 
| | | |
| --- | --- | --- |
| When | Where | What's happening |
| Saturday 10 November 2018 from 10am to 12pm and 1:30pm to 3:30pm | Teddington reach | Kingston Small Boats Head: the River Thames between Hampton Court Bridge and 250 meters below Steven's Eyot will be closed to all traffic other than authorised boats. |
| Saturday 17 November 2018 from 10am to 12pm and 1:30pm to 3:30pm | Teddington reach | Teddington Head: the River Thames between Hampton Court Bridge and the head of Trowlock Island will be closed to all traffic other than authorised boats. |
| Saturday 24 November 2018 from 9:30am to 12:30pm and 1:30pm to 4:30pm | Molesey reach | Hampton Small Boats Head: the River Thames between 500 meters downstream of Sunbury Lock to 500 meters downstream of Platt's Eyot will be closed to all traffic other than authorised boats. |
| Saturday 2 February 2019 from 9:30am to 12:30pm and 1:30pm to 4:30pm | Molesey reach | Hampton Small Boats Head: the River Thames between 500 meters downstream of Sunbury Lock to 500 meters downstream of Platt's Eyot will be closed to all traffic other than authorised boats. |
River restrictions: 
| | | |
| --- | --- | --- |
| When | Where | What's happening |
| Wednesday 17 October 2018 until further notice | Windsor reach | Fallen tree 50 metres upstream of Windsor and Eton footbridge: passage is still possible through the centre arch of Windsor and Eton Footbridge with extreme care and caution. |
| Sunday 28 October 2018, from 1pm to 5pm | Iffley reach | Isis Winter League: in between racing divisions a clear navigation channel will be in place along the centre of the river. |
| Monday 29 October 2018 until Sunday 31 March 2019 | Culham reach | Culham Lock tail layby refurbishment works: the navigation layby downstream of Culham Lock, below the road bridge, is being refurbished. The lock will remain open during these works but river users please be aware of construction plant, for example barges, next to the tail layby downstream of the road bridge and proceed with caution when approaching or leaving the lock. |
| Sunday 4 November 2018 from midday to 6pm | Iffley reach | Autumn Fours: in between races a clear navigation channel will be in place along the centre of the river. |
| Saturday 10 November 2018 from 9am to 4pm | Henley reach | Henley Sculls Head Race: the navigation channel will be established along the centre of the river. |
| Friday 16 November 2018 from 1pm to 4:30pm and Saturday 17 November 2018 from 9:30am to 4:30pm | Iffley reach | Nephthys Regatta: in between races a clear navigation channel will be in place along the centre of the river. |
| Wednesday 21 to Friday 23 November 2018 from midday to 4:30pm and Saturday 24 November 2018 from 11am to 4:30pm | Iffley reach: Folly Bridge to Iffley Lock | Christ Church regatta 2018: Regatta boards will mark the upstream and downstream extent of the course. In between races a clear navigation channel will be in place along the centre of the river. |
| Sunday 25 November 2018, from 1pm to 5pm | Iffley reach | Isis Winter League: in between racing divisions a clear navigation channel will be in place along the centre of the river. |
| Sunday 20 January 2019, from 1pm to 5pm | Iffley reach | Isis Winter League: in between racing divisions a clear navigation channel will be in place along the centre of the river. |
| Sunday 3 February 2019, from 1pm to 5pm | Iffley reach | Isis Winter League: in between racing divisions a clear navigation channel will be in place along the centre of the river. |
| Saturday 16 February 2019 from 9am to 4pm | Henley reach | Henley Fours and Eights Head Race: the navigation channel will be established along the centre of the river. |
| Sunday 17 February 2019, from 1pm to 5pm | Iffley reach | Isis Winter League: in between racing divisions a clear navigation channel will be in place along the centre of the river. |